AD? SDH? What?
What exactly is audio description? It is the spoken description of what can be seen on screen, specially produced for people who are blind or sight-impaired. This additional narrative line is inserted in the gaps between dialogues.
What does SDH mean? These are subtitles for deaf and hard-of-hearing people. Regular subtitles lack information such as which person is currently speaking or what is happening on an acoustic level (doors slamming, explosions, etc.). SDH contain these pieces of information

Looking back: Fully accessible cinema in DACH-Region? Farther away than flying to the moon
Getting access to appropriate audio descriptions or subtitles has not been easy for blind or deaf people in Germany, Austria and Switzerland. Even though audio description or SDH had started to be produced, it was very difficult to enjoy those resources inside cinemas.
Since the UN Convention on the Rights of Persons with Disabilities, participation and accessibility are understood as human rights. Our thought in 2013: Why on earth was it possible to travel into space and even to the moon since the 1960's and yet fully accessible cinema was still a unrealized fantasy floating in the air?

We went a step further
With Greta we aim at encouraging the accessibility of films as well as opportunities to participate in cinema-related activities and discussions. We have worked diligently to achieve our goal of making all films with audio description and SDH easily accessible to all via GRETA. Additionally we are starting soon our service of making subtitles and audio versions available in other languages, to enable a wider audience to enjoy watching movies wherever they want, whenever they want, all across Europe. Individual access to subtitles and audio versions will allow tourists, expats, language students or any person who doesn't have the access needed to go to the movies, and fully understand the film.
We love cinema as a window to the world that allows deep and emotional insights into life through fiction. Experiencing cinema is not just seeing pictures and listening to the sound. What draws you into the spell of cinema are the stories being told.
Whether Blind, deaf, hard of hearing or visually impaired, whether journalist or individual, all should also have an access to previews and other activities related to cinema. We have already organized such events, but it could/ should become more natural. Furthermore, it would be beneficial for international film festivals to have blind or deaf jury members, as this would contribute an entirely new perspective on film. Thus, it is our vision that this technology becomes a standard worldwide.

GRETA:
For those reasons we developed GRETA, which is an audio description and SDH (subtitles) players. The app is very easy and comfortable to use, fail-safe, and free of charge. GRETA gives this new cinema audience the autonomy of choice. GRETA makes cinema fully accessible and inclusion a reality.

How does it work?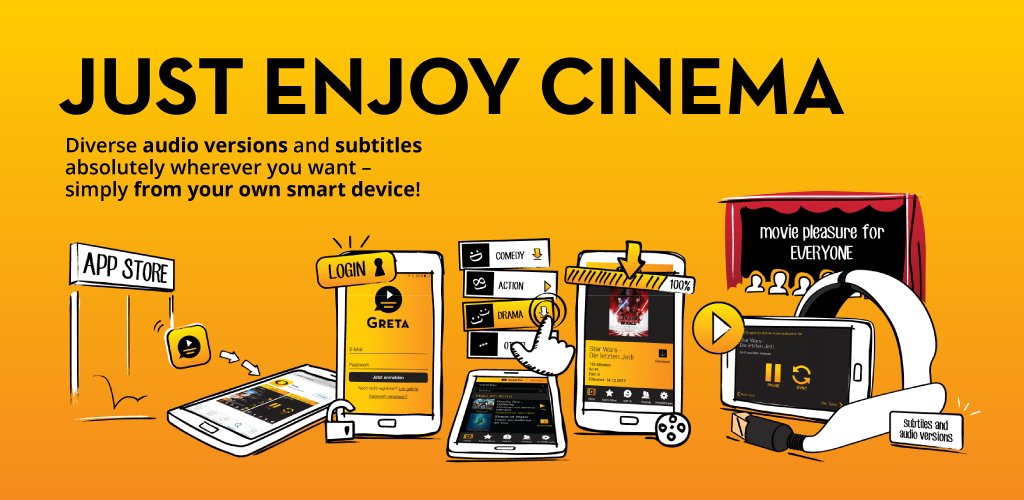 GRETA plays the fully accessible version (BFV) simultaneously to the film, synchronized thanks to sound recognition. The use doesn't require any other equipment than one's own smartphone, and headphones to enjoy the audiodescription (those included in the smartphone package at purchase are fully sufficient).
The app works cross-platform, which means it can be operated on both systems Android and iOS. The user downloads and installs the app, in order to have access to all the available movies, and choose the perfect movie for the next night out.
The best way to enjoy the audio description is to listen to the AD with one earbud. Thus, you can live the real cinema experience : hearing the environing sounds with the other ear and sharing the crowd's emotions.
The SDH subtitles displayed on ones smartphone are only the first step. At the moment, we are diligently working on STARKS AR ® Headset to display the subtitles much more comfortably.
Benefit with GRETA & STARKS:
Over 31,5 million people with sight or hearing loss in Europe can finally enjoy a film freely and independently.
There are about 40 million people in Europe (tourists, expats, language students etc. ) who would also have access to appropriate subtitles.
Cinemas are fully accessible without any financial investment.
Distributors and producers win a completely new audience for all distribution channels.
There are several countries such as Germany that require distributors to produce barrier-free versions of their films when given public film funding. All these versions can and should be accessible in a technical matter.
GRETA can be used anywhere movies are shown: for example, indoor and outdoor cinemas, libraries, TV broadcasts, schools, and more.
​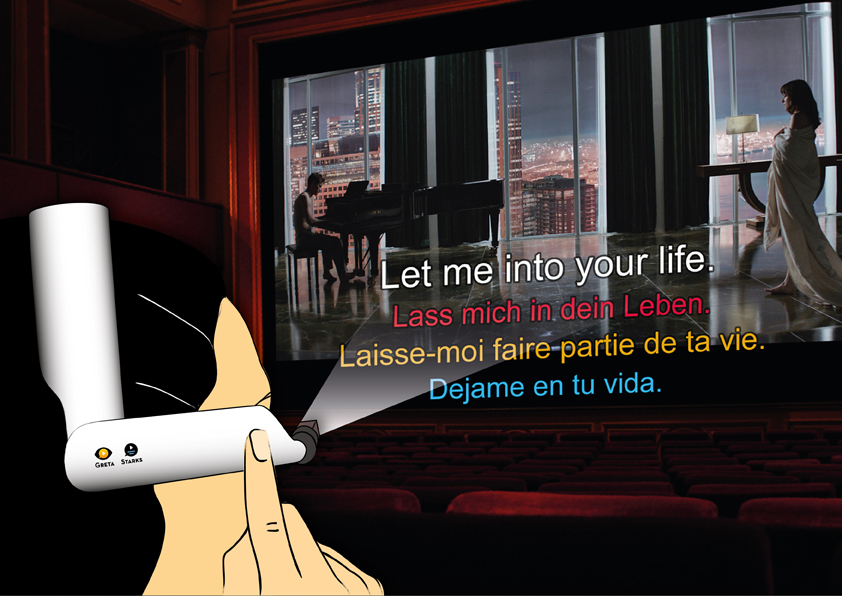 Dream a little dream
We work very hard to provide as many accessible films as possible. Our film database is constantly growing, but there are still barrier-free versions of films that are not made available in cinemas. We ensure a wide range of films, from art-house to blockbuster, all represented in our database. Our vision is that, one day, every film produced is enjoyable in a fully accessible way.
Second, we want to expand our target group to include foreign audiences as well. Enabling subtitles in different languages to be available will allow this large group of people to have an increased access to cinemas, as existing language barriers could then be avoided.
Feedback from users:
"It was simply superb! No more cinema without Greta!"
"I was absolutely delighted to be sitting right there in the hall, among all the other sighted people!"
"I'm hearing impaired and totally awed by your project! Simply fab!"
"Brilliant! In the true sense of the of the word I'm able to understand everything. Even dialects or foreign languages are no barrier anymore."